Stumble It!

Welcome to the Essex Steam site
NEWSFLASH We have gone Solar!
At first we just wanted to balance our carbon footprint, but then we looked into the investment potential and when we saw how good it was we decided to install solar panels. If you want a good solar installation (or any other roof work) in East Anglia try Eastern Roofing and Solar Installation Ltd of Norwich.
Solar panels
---
Another good year for our charity support
Thank you all for your generosity
We have been carrying a collection tin on the roller and on John G's new street organ for MacMillan Cancer Support and managed to collect £309.75 for them.
---
News from Switzerland
We recently heard from Martin Hörler and Roman Preid from Switzerland. They told us about their Wallis and Steevens Advance Roller number 8039 from 1929 which they have just finished restoring. It really looks in marvellous condition, and we wish them luck with it.

Martin and Roman - Wallis Advance
---
As you probably know recent EU legislation will affect all of us. It looks like all drivers of steam vehicles will need to have a Category C (HGV) or Category G (road roller) license from 2013. Category G (Roller test) now available from us.
FREE access to steam engine instruction manuals.
If you have any manuals or working instructions that you would like to share, please email or call me so we can get them scanned and on the site.
---
We currently own and operate a steam roller, one steam portable engine and one diesel roller from our base in Maldon. The steam roller is a Wallis & Steevens 8 Ton. Our old Aveling & Porter 8 Ton roller has now gone to her new owner Mick (of Naiad Plastics) in Littlehampton and we hope to get update information on her progress for inclusion here. The traction engine has now also gone to its new owner. We hope to have more news of it as the restoration progresses.
Currently the Wallis is undergoing some major boiler work, but we aim to be available for Steaming days later in 2013 and you will find us at many of the local steam rallies. We had a great time at Barleylands Country Fair. It was good to meet up with some of you.
---
Our Steaming days can be ordered in the form of a gift voucher, which makes an ideal gift for men of any age, and of course many ladies also enjoy the thrill of steam. Dave got a voucher from his children for his birthday, and brought his mate Peter on one of our Steaming days recently. Here is a few pictures from the trip.
---
You can get a good idea of what we do from the detailed photo sequences showing the sand-casting process and the Wallis steam-up routine which shows the detailed steaming-up sequence in preparation for your steam trip.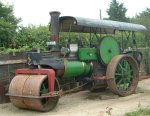 Aveling 8 ton

Wallis Diesel 3 ton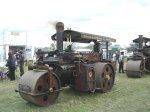 Barleylands

Aveling tractor delivery
---